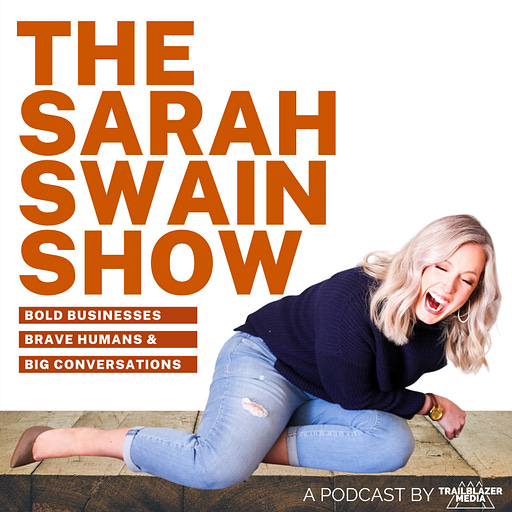 Oct 11, 2022 • 45M
017 with Sovereign Authors Holly Schefold, Rosanna Di Fiore, Ashley Correia
Bold Businesses. Brave Humans. Big conversations. If you're looking for a space with truthful and daring dialogue, this is it.
Another incredible conversation with three of the Authors in the Sovereign Collaborative Book that is now available on Amazon. https://www.amazon.ca/dp/B0BH13XBXM In this episode, each author shares a little bit of the story they wrote in the book, and what the term Sovereign truly means to them.
Holly Schefold
Rosanna Di Fiore 
Ashley Correia
Bios
Holly Schefold is the owner and founder of Nourish Cooking Co, an online membership that enables children (and their parents) to become independent and self-reliant in the kitchen through plant based cooking classes. Holly has always been a self driven, entrepreneur at heart. As an AMI trained Montessorian, Holly worked with children for over 20 years both in the classroom and in the kitchen before she pivoted to start her own business due to vaccine mandates. Nourish Cooking Co. was born. Holly is passionate about educating children on how empowering it is to make their own foods from scratch. Holly completed her Precision Nutrition certification and went on to earn her Plant Based Nutrition certification from the T.Colin Campbell Institute. She's appeared on a few local podcasts and in magazines. When not in the kitchen, Holly enjoys spending her time with her three children and husband at their cottage near Algonquin Park.
Rosanna is a proud mother, wife, daughter, sister, aunt & community volunteer. She considers herself a conservative woman living her life as a traditional wife, homemaker and provider in a traditional marriage. Cooking barefoot is only one of her superpowers. She happily serves her family and often loves to brag about being CEO of her home more than any other title given to her in her past corporate life. She believes there is no more important role in society than motherhood. Her three children, Lucas, Martina, and Julian, and husband, Mario, are the fuel to her fire in this world. Cut from a different cloth, Rosanna's grit, determination, integrity, and passion for what's right and true makes her refreshingly real in such a curated world. A fierce protector, Rosanna is courageous enough to be viewed as unpopular as she advocates for who and what is nearest and dearest to her heart. Rosanna gives back to her community generously with her time by bringing people together, helping the less fortunate, and stimulating the human spirit. The fortitude of her gut instinct has been her biggest blessing in life. It's helped her become fearless and unstoppable. It freed her from the existential fears and worries of the present time.
Ashley is a Canadian mom, and wife navigating this ever-changing world and figuring out the best way to raise her two beautiful boys. Although fear almost took her life, with a lot of help, and even more personal work, she embarked on a journey to sovereignty. She left her overachieving, people-pleasing, perfectionist self behind. Now she is a woman, with an abundance of belief, who is letting life unfold for her and her family upon the values of love, curiosity and communication! Ashley has been teaching primary aged children for 12 years in a large public board in Ontario. Most of her career was spent teaching Kindergarten, ages 4-6. This is where her heart lies and her light shines. Ashley also has a degree in Psychology (University of Western Ontario) and a Masters degree in Teaching (OISE, University of Toronto). Right now, Ashley is adventuring around Canada in her family trailer, making the best memories after a challenging few years, while also scoping out where to set roots for her family. You will find her bike riding, writing, doing yoga, floating in the ocean or lake, and going on daily adventures with her family. Follow Ashley on instagram @IamAshleyCorreia for her honest reflection on raising a family in this current Canada and to see where the next chapter leads her sovereign family in this weird and wonderful world.